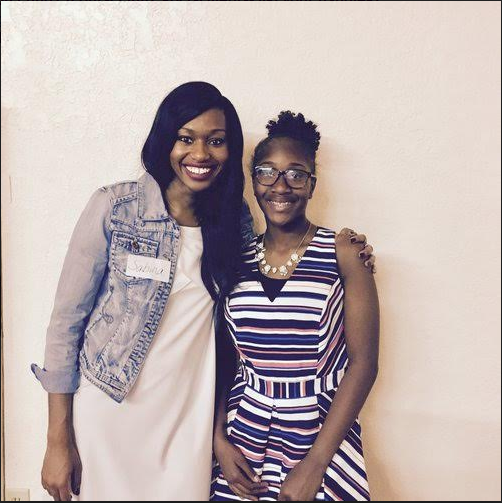 I met Sabina after my bestie invited me to a fun night of girl chat and wine with a few other incredible ladies turned sisters (hey Jewel and Onjalai). We discussed topics on #blackgirlmagic, Jesus, politics, our jobs and of course boys. It was such a fun night. As I listened to Sabina's journey in becoming an entrepreneur, not only did she inspire me, but she's also challenged me to set goals and accomplish them. She is such an incredible woman who's hustle goes beyond just herself and I am honored to know her.
Q: Why do you do what you do?
It was I always knew I wanted to work in fashion. Young Fashion Fund (YFF) focuses on empowering and educating underrepresented women pursue fashion and beauty. After playing around with a few ideas the nonprofit concept clicked with me. I was excited to start an organization at a time when the fashion industry was finally talking about its lack of diversity and inclusiveness.
Q: How have you grown/ developed over time?
I started YFF out of a strong desire to impact and give back. This nonprofit has stretched me professionally and personally. This has been the toughest thing I have done but I would not change a thing. Along with running YFF I have a full-time job that requires a lot of travel so time management is huge…also sleep. Getting sleep sometimes seems like a luxury. Haha.
Q: What glimpses of Jesus have you seen through your work as an entrepreneur/ fashion extraordinaire?
This organization could have not been without God. I never saw myself being an "influencer" let alone starting a small business. God gave me the, vision, wisdom and strength to start this organization and I am thankful for that. 1 Timothy 4:12 reminds me you can be a leader at any age. If you are young and doing dope things, enjoy it, you are setting an example for someone.
Q: What's next for Young Fashion Fund
Coming up soon!
9/1/17 | We are announcing our recipients for our Up and Comer Scholarship (applications still open).
9/2/17 | Get Dressed event at the Oak Cliff Culture Center in Dallas, TX. We are donating dresses and accessories to young girls in need in the South Dallas area. Dallas stylist Crys Crain join us as our guest speaker.
Up and coming |
Launching our volunteer program in New York with FABSCRAP, another fashion nonprofit promoting sustainable fashion.
Returning to Harding High School in St. Paul, Minnesota for their second Get Dressed event
You can find Sabina and exclusive information on YFF on the inter webs at:
Website: www.youngfashionfund.org Instagram: @youngfashionfund Facebook: Young Fashion Fund